"Pradyumna's story is fresh, untold, deeply relevant." Interview CA Shivani
Read online here.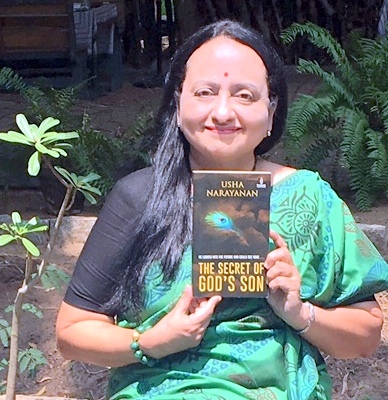 1. Hello Usha Ma'am, thank you for agreeing to this interview. Tell us a bit about yourself and your background.
I have lived mostly in Chennai and for a short while in Honolulu, Hawaii and Connecticut. I studied in Church Park Convent and Ethiraj College and completed two Masters degrees in English Literature and Education. Then I taught English at junior college level for four years and went on to a successful career as Creative Director in advertising and radio. I have also worked in editing, corporate communications and ePublishing.
Now, I am a full-time author with four books published in three years ― 'The Madras Mangler' (a suspense thriller from Leadstart), 'Love, Lies and Layoffs' (a rom-com from Harlequin HarperCollins),' Pradyumna: Son of Krishna' and 'The Secret of God's Son' (epic thrillers from Penguin). I love being an author and interacting with readers/reviewers like you who encourage me to explore, evolve and keep writing.
2. If you were to describe your books 'Love. Lies and Layoffs', 'The Madras Mangler', 'Pradyumna; Son of Krishna' and 'The Secret of God's Son' to someone who has yet to read them, how would you do it?
'The Madras Mangler': If you love thrills and a spine-tingling whodunit, this one is for you. The book has been described as 'spookilicious' and 'unputdownable' by readers.
Bonus: A clear-eyed look at issues faced by women today.
'Love, Lies and Layoffs': It's a fun, flirty romance for all those who are in love or hope to find love. It's for those who work in offices and struggle each day with office politics and nasty bosses. It's for women who are warm and loving like my heroine Freida and dashing like my hero Girik, alias Geek!
Bonus: You will enjoy a hearty laugh as you recognize characters and scenes from your own life!
'Pradyumna: Son of Krishna' and 'The Secret of God's Son': These mythological fantasies are for those who love our epics and for those who wish to delve deep into the riddles hidden in our ancient puranas. They are set in a tumultuous world of super heroes and ravishing maidens, dire demons and powerful gods, with an underlying theme of love, hope and dharma.
Bonus: Pradyumna's story is fresh, untold and deeply relevant to the world we live in. The second book has a new interpretation of the Gita that will help us confront the corrupt forces that surround us.
3. What made you choose Pradyumna? What is its relevance to you?
First, he is the son of Krishna but he is also Kama burned to ashes by Shiva and brought back to life through his wife Rati's prayers. I discovered many more exciting stories about him when I researched his life. Second, though he is the son of Krishna, Pradyumna is also a human being who grapples with his failings like we do and ultimately shows us how we too can rise above our limitations. Third, his divine bond with his wife Maya inspires us to believe that love can transcend time and elevate our souls. Finally, his magical origin ― revealed in 'The Secret of God's Son' ― is truly breathtaking and worth waiting for.

4. Did you all always want to write a book since childhood?
My love affair with words and stories started when I was young and led me in time to studying English Literature and to a career as a writer in several inter-related fields. Then, I crossed the final frontier for a creative person ― to be able to write for myself and give free reign to my imagination. Four of my books have been published now but I feel just as blessed today as I felt the day when it all started.
.
5. Can you say something about your journey from being a person with a manuscript to an author of a published book? How was the struggle?
I wrote 'The Madras Mangler' without any thought given to its publication. It was the kind of book I would love reading myself. At the launch in Starmark bookstore, actor-director Suhasini Manirathnam said that the book had made her start reading again. Author Rudra Krishna termed it 'a breath of fresh air, a socially relevant, fast-paced read.'
I think that it is the quality of the writing that ultimately counts. Though I received a few rote rejections at first, the manuscript was picked up quickly by Leadstart and was released with hardly any changes made by the editor.

6. Can you share with the readers, the names of some books and writers that inspired you?
Georgette Heyer in historical romances; Lee Child and Stieg Larsson in thrillers, Keigo Higashino in crime fiction. I still have a soft spot for Enid Blyton and Richmal Crompton!
As for books, there are simply too many to list. Here are a few, off the top of my head: S J Watson's 'Before I go to Sleep'; Brian Weiss's 'Many Lives, Many Masters'; 'The Kite Runner' by Khaled Hosseini.

7. Apart from the writers, who are the people and what are the things in your life that inspired you to write the book? When did the idea strike?
A writer is like a sponge ― soaking in experiences, emotions and motivations from the people he sees, hears or reads about. As far as I am concerned, my stories are anchored in the human experience and not my personal experience. Therefore, while one story is located in Madras and the next in Mumbai, my epic fantasies soar to Vaikunta and descend to Yamaloka. Who knows where my journey will take me next!
8. What was your family's reaction to find you so engrossed in writing? Any incidents you would like to share with us?
My daughter is delighted that I am an author and often tells me that she is inspired by what I do. She went to the mall with her friends one evening soon after the release of 'The Secret of God's Son' and called me excitedly to say that the book was already sitting pretty in the Bestsellers section. The picture she sent me is one I treasure and that moment was truly unforgettable.
Other family members proudly introduce me to their friends as an author and pepper me with questions on what my next book is about! And let's not forget the warm bunch of friends and readers who are there at every launch and inspire me with their staunch support.
9. How important are reviews to you?
Whatever you say has no significance unless there is someone to listen to you. Similarly, whatever you write is meaningless unless someone reads and reviews it. When a reviewer appreciates the nuances of your book, lists out their favourite moments, tells you that they can visualize the scenes I have painted and say that they cried when they read one particular episode ― that experience is truly joyous! A big thank you to my many readers and reviewers who took my books and my stories into their homes and hearts.
10. A question whose answer everyone would like to know: When will we be getting another book from you? What makes you choose your genre ― diversity?
My taste in books is wide ranging and therefore I am comfortable writing in many genres. As for the next book, Penguin has asked me to write another book based on mythology. I am elated to continue my association with one of the world's top publishers and with my awesome editor Vaishali Mathur.
11. Any message for your young readers and aspiring authors?
A ten year old girl is one of my first readers and I am greatly impressed by her intelligence and perceptiveness. Another reader, a high school student, has written the most amazing reviews of my books. I am astounded by the eagerness and enthusiasm of young readers today and hope that my writing will continue to engage and inspire them.
As for aspiring authors, there are three things that are essential to writing success: Passion. Perfection. Perseverance. These qualities are in fact the key to your success in any field.
May the Muses bless you with their divine voices! Do continue to write to me or comment on Facebook and Twitter. I look forward to these interactions. Thank you, Shivani for this wonderful interview.