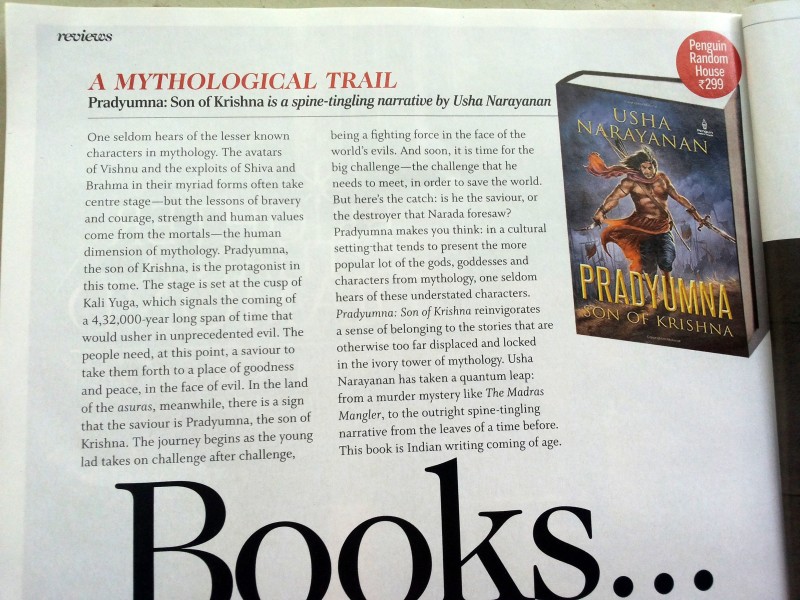 Femina Magazine 4h>
Dec 18, 2015 The Hindu Literary Review4h>
Read online here..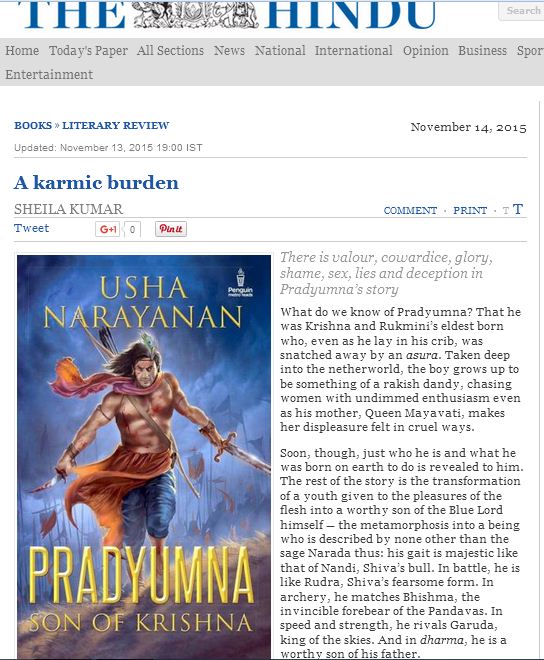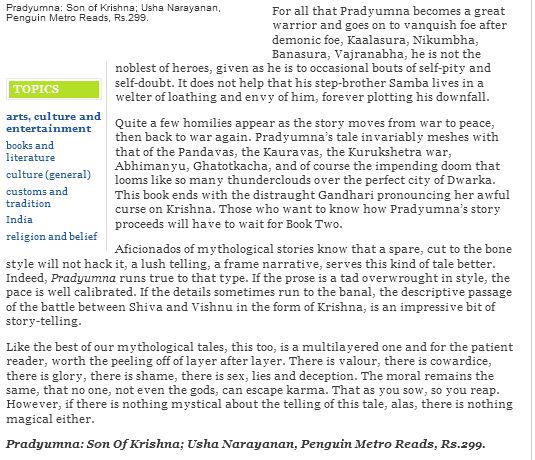 Verve Magazine4h>
All About Book Publishing magazine4h>
Read online here: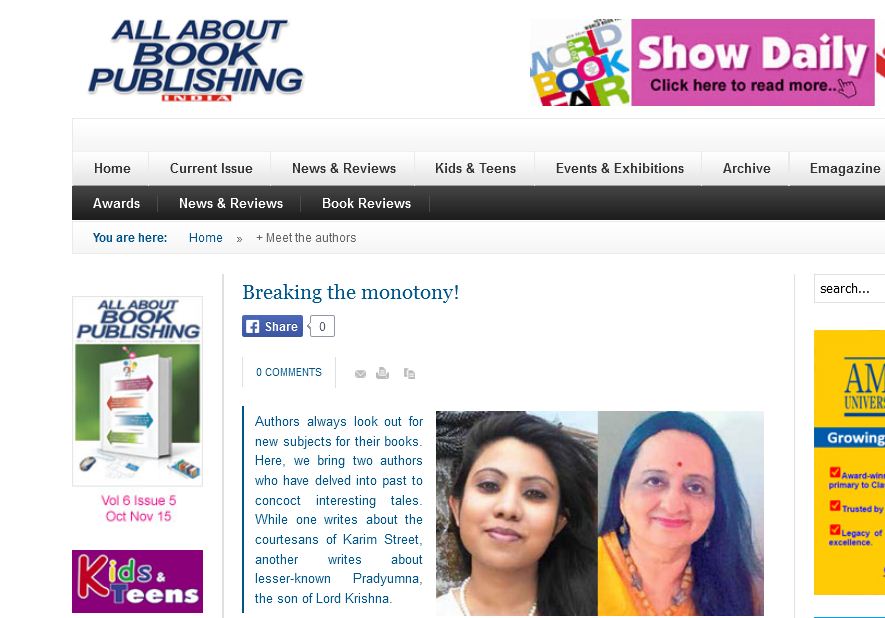 Pradyumna: Son of Krishna by Usha Narayanan: The urge to be different motivated writer Usha Narayanan to explore the life of the lesser known mythological character, Pradyumna, son of Lord Krishna. Janani Rajeswari S chats with the author about memories associated with the book and her journey as a writer. Usha Narayanan has donned many hats in her career. From teaching to corporate communications, advertising, e-publishing and finally writing. "As I moved from one to another, the scope for creativity became limited. I finally became an author." she says. It all began with a short story that she penned for an anthology a few years ago. "But I discovered that novels were favoured more than short stories," says Usha. Thus began her journey as a novelist with 'The Madras Mangler', a thriller novel in 2014. It tells the story of five college girls whose lives are shattered by the entry of a serial killer. Usha also reminisces a little about creating the character of the villain in the book. "It was indeed a challenge as his character was completely contrary to my sunny nature. So, I needed to work on the character and add more evil to it," adds Usha. But for a voracious reader who enjoys almost every genre of writing, she chose mythology as the base for her second book 'Pradyumna: Son of Krishna'.
The 'Pradyumna' connect: Describing the hero Pradyumna in a line, the author says, "He's a super hero, an amazing lover, every man's destination and every woman's dream." But that wasn't the only reason why Usha picked the little known warrior scion, Pradyumna. "I also connect with Pradyumna, as the hero of my first book was called Vir Pradyumna," Usha adds. She says that Pradyumna played a vital role during his times and is a role model for today's man.
Epic fantasy and authenticity go hand in hand: Usha prefers to call 'Pradyumna: Son of Krishna' a fantasy epic. "It is not a retelling. Different versions of the story are available today. A brief version is presented in Amar Chitra Katha. But my story takes off at a tangent that suits today's sensibilities," she says. That meant that she had to add depth and many facets to suit the hero's stature. Half of her book is fiction, she says and points out that mythology has always been a challenge. To authenticate facts in the book, Usha's research took her to Pancha Dwaraka to explore the original locations and search for evidence and local literature. "The palace of Lord Krishna from that era still exists. I found out that Pradyumna was called 'Kalyan Rai' as he was believed to have brought prosperity to the kingdom," she reveals. Her hero lived at the very beginning of the Kali Yuga. Also, he was weighed down by pressure of saving his Yadava clan that was cursed by Queen Gandhari. Usha speaks of the research that shows that Lord Krishna's Yadava clan did not end after him. Usha has also included a version of the Bhagavad Gita in the book where Parasurama guides Pradyumna just like Arjuna was instructed by Lord Krishna. "There is evidence that different versions of the Gita also existed and that it was initially conveyed by Krishna to the Sun God," she says.
Journey & responses Usha reveals that 'Pradyumna' gave her a chance to rediscover the richness of our native literature. "It was a multilayered experience with respect to finding out interesting facts about the hero. The puranas say that Pradyumna was an incarnation of Kama Deva (God of Love) who was burned to ashes by Lord Shiva," she adds. She also got the opportunity to explore the meaning and significance of the names of some characters. For instance, 'Ghatotkacha' means one with a head shaped like a clay pot. It is not a completely serious story. She offers comic relief through the adventures of Ghatotkacha (son of Bhima). Usha also sticks to the language that was pertinent to that age. Her first reader was a 10-year old girl. "She told me that Amar Chitra Katha gave her only a brief sketch about Pradyumna and encouraged me to continue writing mythology," says Usha. She adds that some readers appreciated the human dimension embodied in Pradyumna.
What's next? Usha's next is a rom-com 'Love, Lies and Layoffs' set in the corporate world that goes into office politics and other challenges. The next year will see the release of the sequel to 'Pradyumna' that will narrate his attempts at redeeming humanity. "Through books like 'Pradyumna', I would like to contribute to the revival of interest in our native literature in a small way," adds Usha.
The New Indian Express4h>
Read online here.


The Hindu Metroplus4h>
Read online here.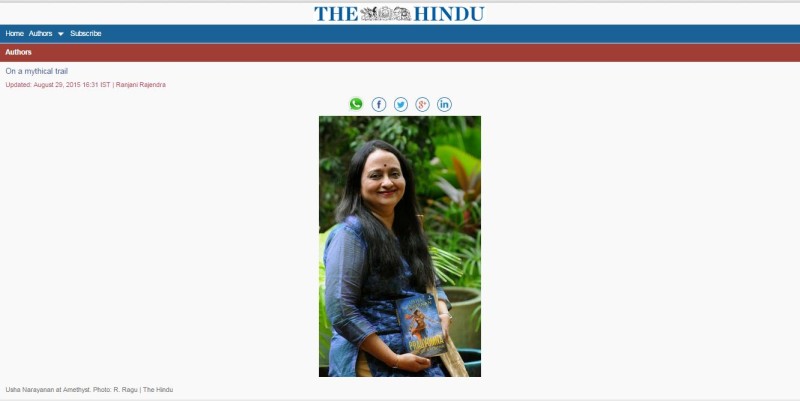 Meet the Author at Coimbatore, with readers and media.
Readomania
Read online here.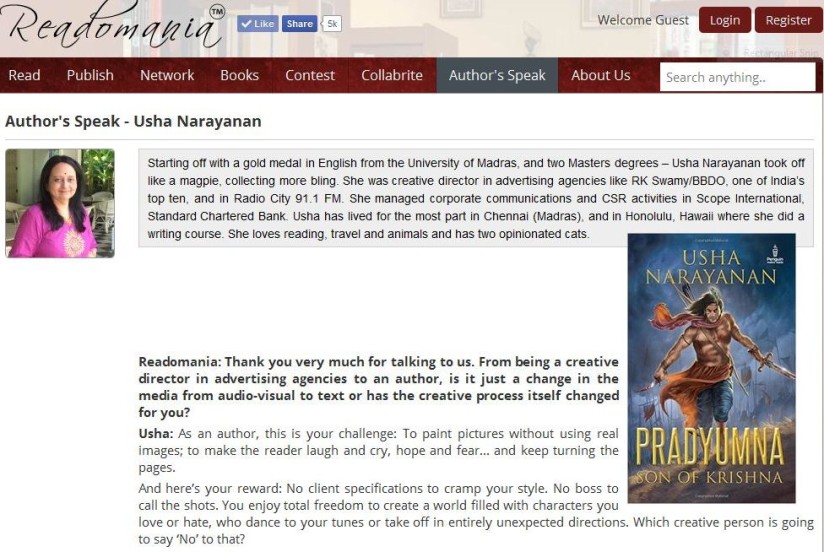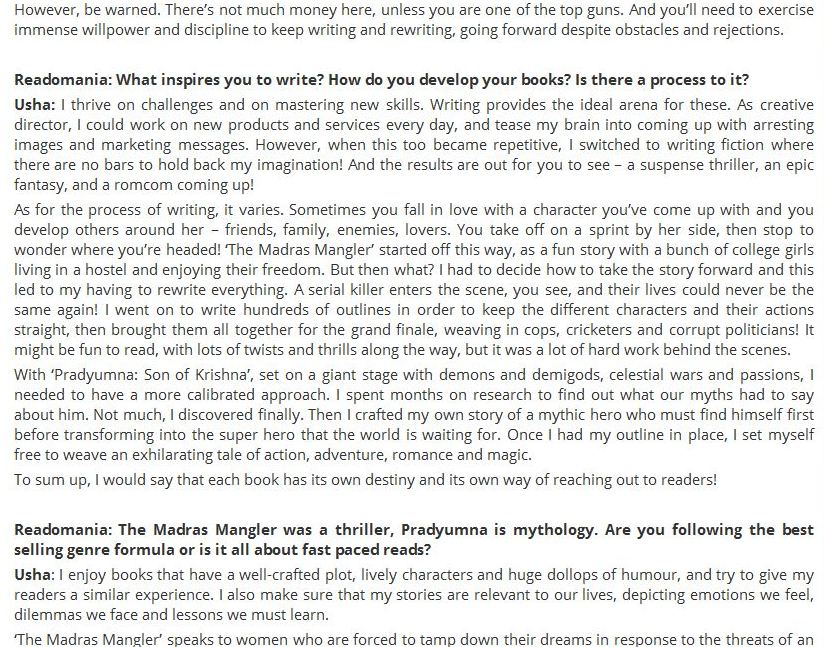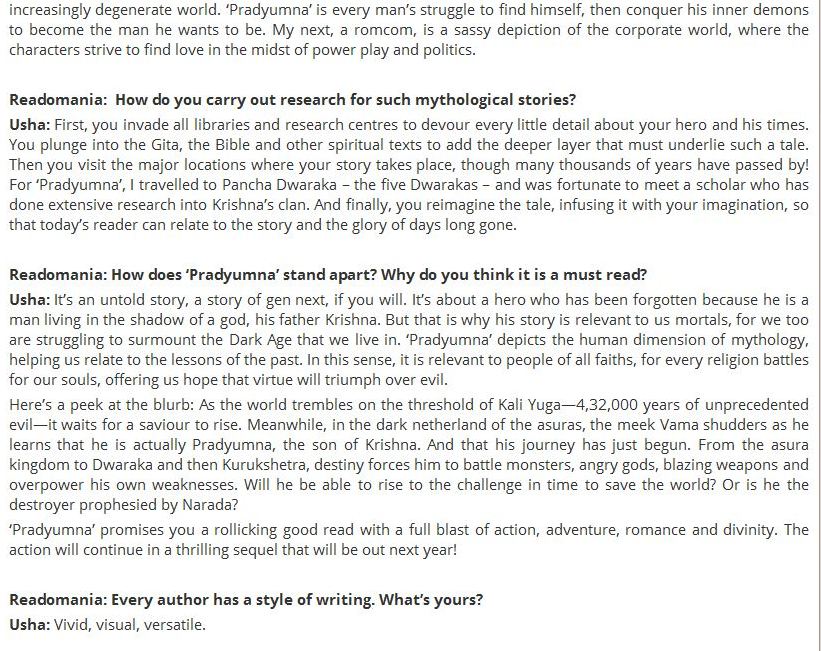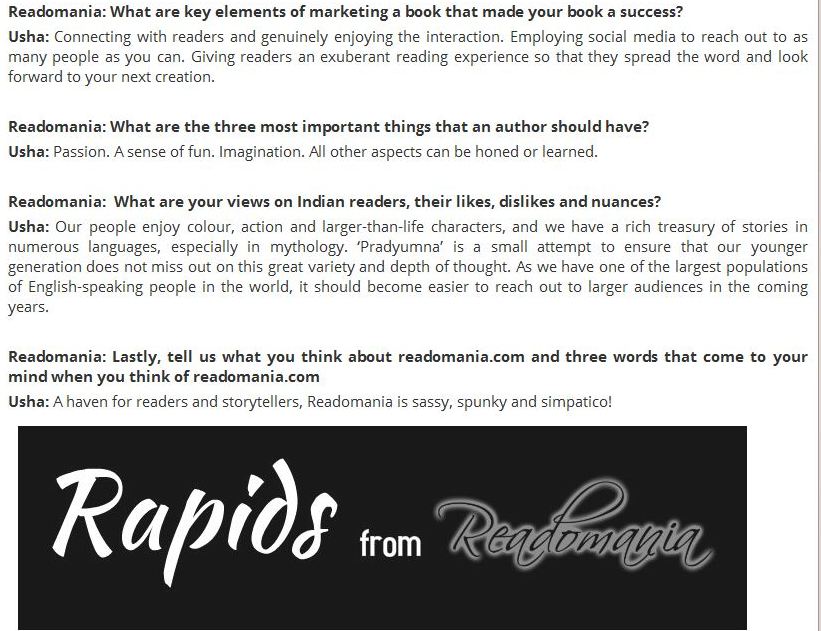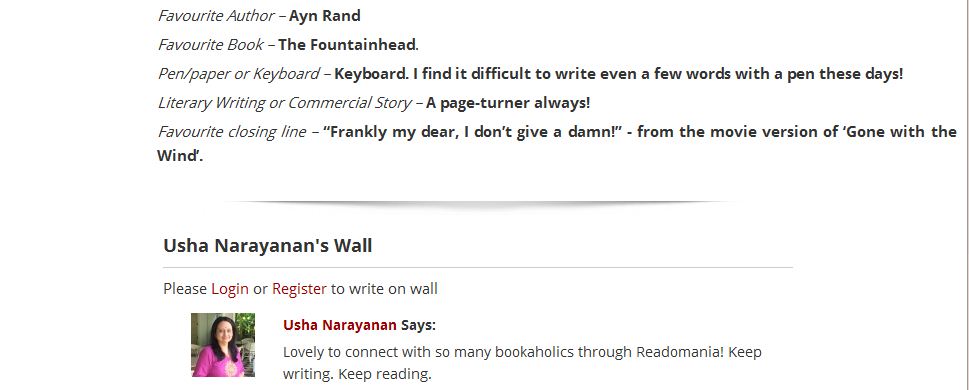 Deccan Chronicle
Read online here.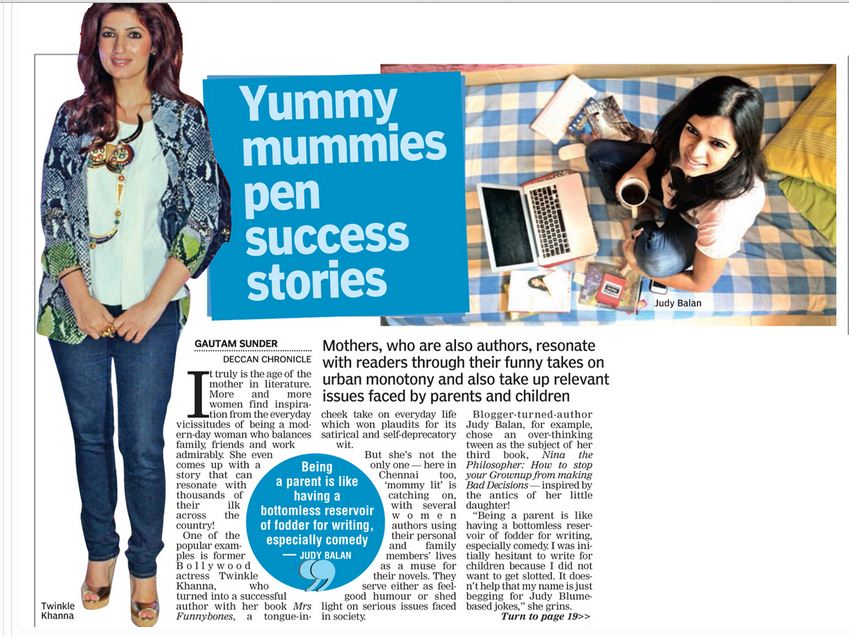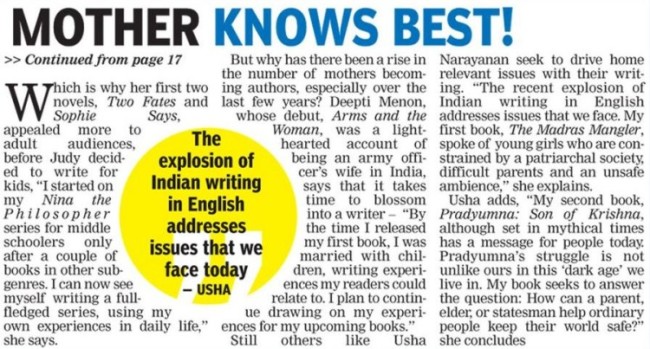 Radio One Chennai 94.3 FM: Smart Talk
An exciting discussion in English with RJ Sulabha on writing, on myths, and on 'Pradyumna: Son of Krishna'. Listen to it here.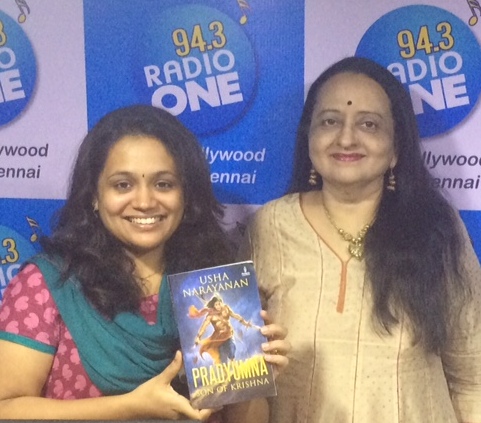 thesublimetalks.com
Read online here.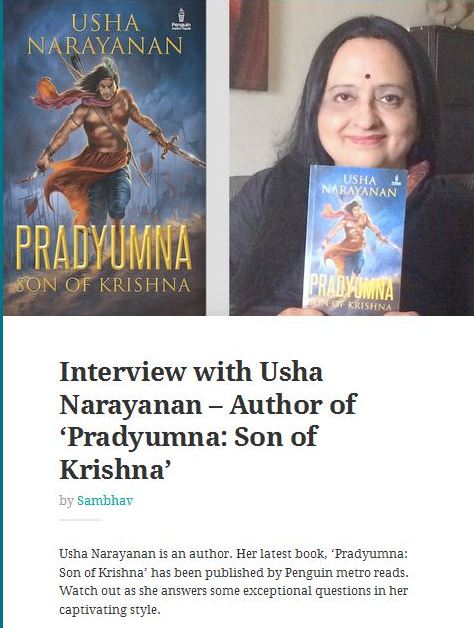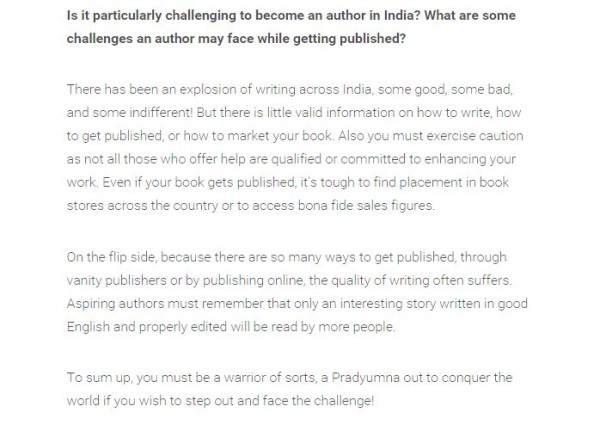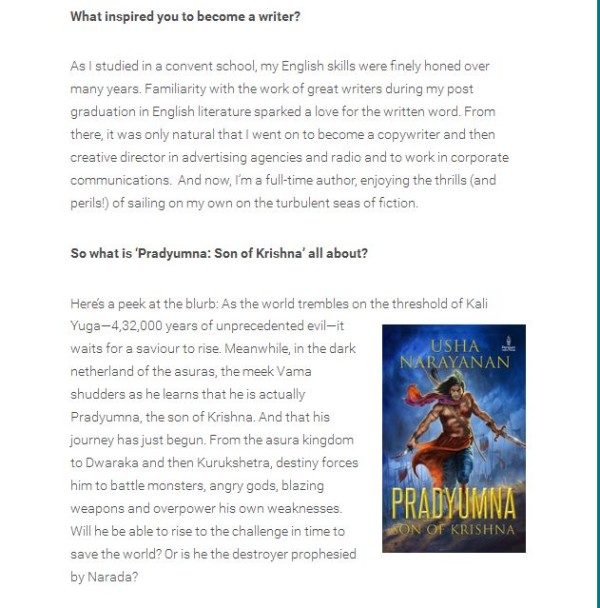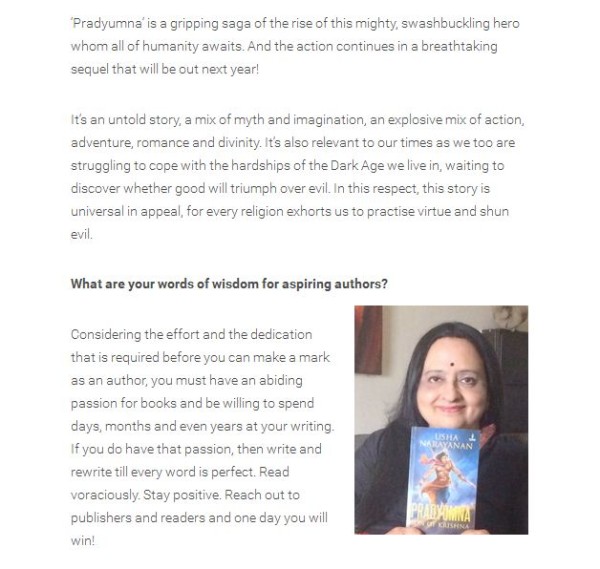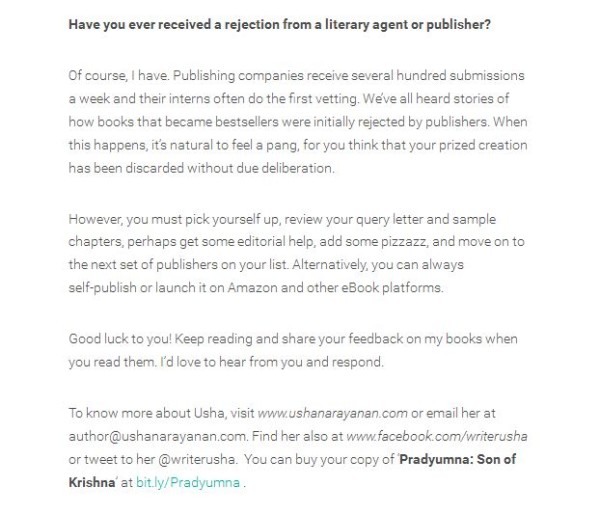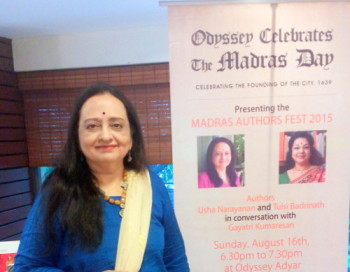 The New Indian Express
Read online here:http://bit.ly/1hkouRX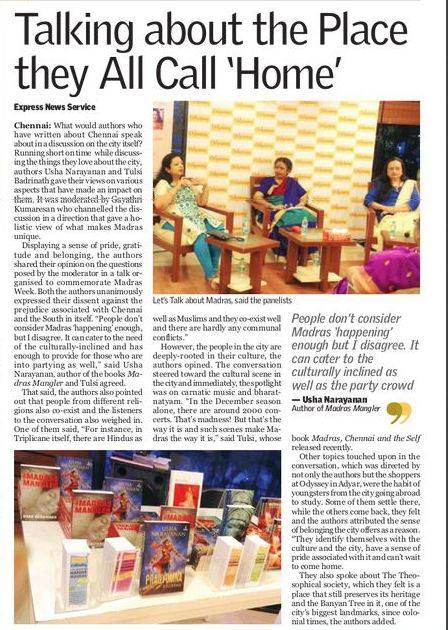 Socialtahelka.com
Read online here
The journey from a teacher to a writer
by Rachit Sharma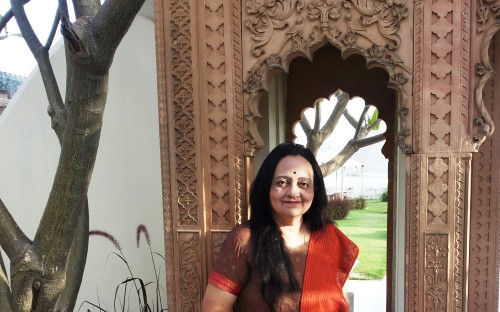 It is not easy to be a writer, especially at a time when there is such high competition. In fact, it is not easy to leave a job and get into something that you love and are passionate about. However if it is truly your passion, then no obstacle can stop you.
Today we have come across a writer who was initially a teacher and then became a writer because she followed her dreams and passion. Usha Narayanan is a gold medallist in English from the University of Madras. Not just that, she has also worked as a Creative Director in advertising agencies like RK Swamy/BBDO, and also in Radio City 91.1 FM. If you think that this is it then you are mistaken, as she has also handled corporate communications and CSR activities in Scope International, Standard Chartered Bank. She has lived in Chennai and in Honolulu where she started off her writing.
Her first book was 'The Madras Mangler', a suspense thriller which depicts crime on women and how it is averted. This book became a huge success and shot Usha to fame. She appeared for interviews in various magazines and newspapers. It appeared in 'Cool Pickings' in Savvy. The Hindu called this book "An engaging mystery set against the backdrop of college." Her second book, 'Pradyumna: Son of Krishna' has been called 'An Exceptional Masterpiece' and as 'Indian writing coming of age'.
With such huge experience, Usha Narayanan seems to be ruling the writing world. We look forward to seeing what is next for the audience.