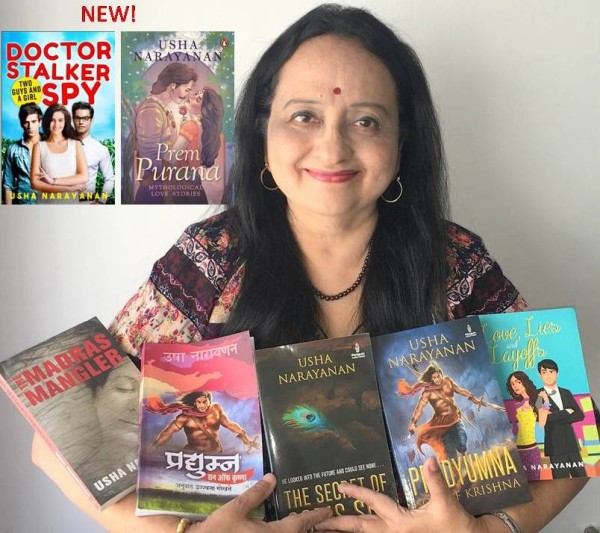 Tally in four years!
Usha Narayanan had a successful career in advertising and media before becoming a full-time writer. She was creative director in advertising agencies like RK Swamy/BBDO, one of India's top ten, and in Radio City 91.1 FM. She managed corporate communications and CSR activities in Scope International, Standard Chartered Bank. Usha loves to travel and reads everything from thrillers to romances to the puranas.
Her bestselling novels cut across genres. The Madras Mangler, a suspense thriller, received excellent reviews (read here). It is available online at Amazon and Flipkart. Her next, Love, Lies and Layoffs, is a light-hearted office romance from Harlequin, available online on Amazon and Flipkart.
Next came the chartbuster Pradyumna: Son of Krishna, a mythological thriller from Penguin, available now in leading bookstores and online on Amazon and Flipkart (also as eBook). Her next, The Secret of God's Son (Penguin, July 2016), continues the saga of Krishna's son and delivers a potent message for readers everywhere. The book is available online on Amazon, Flipkart and Infibeam, as paperback and ebook.
Her next release, Prem Purana, is a delightful anthology of three stories, describing Ganesha's wooing Brahma's three daughters, Ravana's abiding love for Mandodari and the riddle that finally brings Nala and Damayanti together. The book is now available on Amazon.in, Amazon.com, Flipkart, etc,and in bookstores nationwide.
Read her latest, Doctor Stalker Spy, for just Rs 30, by clicking here: http://bit.ly/2gNGdGA It is a fun romance with two guys and a girl, plus one mean stalker! Just download the free Juggernaut App on your phone, tablet or laptop to read immediately!