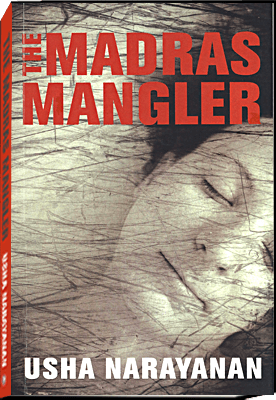 The Madras Mangler
Author : Usha Narayanan
Paperback: 280 pages
Publisher: Leadstart Publishing
Language: English
ISBN-10 : 9382473645
ISBN-13 : 978-9382473640
Five pretty girls from around the country, enjoying college life in Chennai, until a psychopath comes to town. The killer is smart, but so is Vir Pradyumna, ace criminologist from New York. Ruthless politicians, bumbling cops, beer barons and cyber criminals run amuck. The killer snatches a girl whom Vir has sworn to protect. Will Vir be in time to stop the maniac and save the girl?

The Madras Mangler is here!
Reader Reviews
Click here to submit your review.
---
---
Mar 23, 2014
by
ChitraVemulapadu Srinivasan
Really enjoyed reading the book. Very interesting; almost forgot it was an Indian author and enjoyed it as much as reading James Patterson or some such good mystery writer. Good going, lady. Waiting for more.... Let us show them we can write English books as good or better than theirs!!!

---
I don't normally read thrillers but bought the book after reading media reviews. Couldn't stop reading once I picked it up. Realistic characters. Mother-daughter relationships and teenage life are well-captured. Could not find out the killer's identity at all!

---
Nov 08, 2013
by
Narasimhan
Complex plot and interesting characters. Kept me guessing till the end! A fast read.

---
Oct 30, 2013
by
Ramya Pradeep
Read it at a single stretch. Loved the gripping storyline, and a few places where it sent a chill down the spine. Recommended weekend read.

---
Read more