Books, writing, social issues – Prakash Vir Sharma interviews Usha Narayanan
Read online here.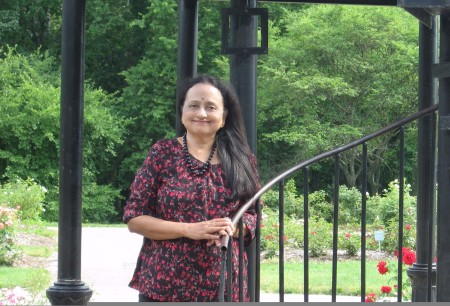 1) Welcome Usha! Would you please tell us a little bit about yourself?
Starting off with a master's degree in English literature, I went on to an eventful career in advertising, media and the corporate world, as creative director, features writer, web editor and communications manager. My debut novel, a suspense thriller 'The Madras Mangler', was followed by the rom-com, 'Love, Lies and Layoffs,' from HarperCollins. Penguin Random House published my bestselling mythological thrillers: 'Pradyumna: Son of Krishna', 'The Secret of God's Son' and my latest, 'Prem Purana', three exciting love stories from our puranas. I love reading, animals and travel, and live in Chennai, a beautiful coastal city in South India.
2) When did you decide to write and what inspired you?
A love for the written word has been part of me ever since I started school and began devouring the books in the school library like it was the last day on earth! I was editor of the college magazine, did a writer's course in the USA and followed up with a career in advertising. A short story I wrote for a friend inspired me to begin writing completely from my heart. The five novels I have written so far feature characters that range from serial killers to rakshasas, and from bold, contemporary women to gods and goddesses. The settings range from heaven and the nether world to media houses and corporate corridors. Love, action, suspense, dharma and karma, an interpretation of the Gita – you will find a spectrum of subjects to entertain and enlighten you.
3) What was the hardest part of writing your first book?
I started with just a general idea on what I wanted to write about, but soon encountered hurdles when I realized that being an avid reader did not equip me to write a full-fledged novel. How many words in a chapter, how many chapters in a book, where do I begin, how do I add suspense, how do I make it a page-turner…I had to educate myself in a hurry. The chick-lit I started writing morphed into a thriller and I had to rewrite the story again from the beginning.
If I thought that writing was difficult, I had not even considered how I was going to get the novel published. You can imagine my shock when I found that there were a host of writers clamouring to be published and just a handful of publishers they were addressing their queries to. For every bestselling author, there were a hundred thousand aspirants whose manuscripts languished in the slush pile! Fortunately, my book was taken up for publishing soon and I have not looked back since. It is heartwarming when readers ask you about your next book and to have publishers eager to take a look at your next creation. Trust me, the joy of holding your newly-minted book in your hands makes you forget all the travails that you suffered to get there!
4) What is your latest book about?
'Prem Purana: Mythological Love Stories', published by Penguin Random House, is an engaging collection of three stories from our puranas. You will find out how Ganesha took myriad forms to please Riddhi, Siddhi and Buddhi, how Ravana shared an unbreakable bond with his true love, Mandodari, and how Nala and Damayanti's relationship was tested until almost nothing remained. Love in its many splendorous forms is the delightful theme of these endearing tales. 'Prem Purana' is available in bookstores on Amazon India at http://amzn.to/2eNu2oT and on Amazon worldwide.
5) What are your future projects?
A romance, a heroic tale from our mythology and an inspirational book for women – these are some of the projects that are currently on the anvil. Varying the theme and the genre keeps my creative juices flowing and infuses my writing with a zest that I hope to pass on to my readers!
6) How do you involve yourself in promoting your book? Any marketing technique you want to share?
Book clubs, literature festivals, interviews, blog tours, social media – these are some of the avenues where I promote my book. Some tips to attract eyes: Make sure that everything you write or say is carefully thought out and not repetitive. Ensure that you do not overwhelm your audience with sales messages. Make your posts colourful, humorous and fun. Build relationships with your readers, interact and engage regularly. Be different, build a unique personality that is your very own. And never stop reading and learning from other skilled writers.
7) Give your thoughts about traditional publishing versus self-publishing. Which are the publishing platforms you use to publish your books?
All five of my books have been traditionally published, with leading publishers like Penguin and HarperCollins. In India, the reach of physical books is far greater than that of eBooks, and traditional publishing has definitely helped my novels reach more people. With more apps and options for self-publishing currently available, the scene is gradually changing.
Self-publishing gives you greater control over your book and helps you understand what works in the market and what does not. But this also entails more responsibility as you must ensure that your book is the very best it can be. Make sure that it is well edited and free of grammatical and other errors. Remember, a fancy cover or layout is no substitute for a well-written story. You must also be prepared to spend a major portion of your time promoting your book as it will otherwise be lost in the clutter.
8) Personally, I would like to know about social and political issues of your country. Have you ever thought to write about those or something which may be beneficial to society and nation?
A social conscience is essential to all creators, whether they are novelists, poets, film makers or sculptors. An author has a great opportunity to influence thinking, and to shape reality in a way that is beneficial to people. In all my books, you will find my code of life forming an undertone in the story and characterization. 'The Madras Mangler' highlights society's patriarchal mindset and what young girls can do to stand up for their rights and attain their dreams. 'Pradyumna: Son of Krishna' and its sequel 'The Secret of God's Son' address the current scenario where corruption and wrongdoing are the norm and our spirit is almost quenched by the prevalent attitude of cynicism. These books attempt to awaken the crusading spirit in readers, encouraging them to honour and respect others and to stick to the true path, whether anyone else follows them or not. 'Prem Purana' is centred on women who act as the moral compass in the family and society, the Shakti who animates all life. My future writing may be even more directly focused on issues that affect humanity. As one reviewer put it, 'Love, hope and dharma' are the key elements that underlie my writing.

9) What advice would you wish to give to an aspiring writer?
Be passionate about your writing or you will achieve nothing. Aspire for perfection, ensuring that every word, every sentence you write is polished and the best it can be. Finally, be persistent, for nothing comes easily, and you must persevere if you want your books to reach people and perhaps create a gentle wave of change.

10) What do you think encourages a reader to buy a book?
If you notice readers in a bookstore, you will see them pick up the book, drawn first by the cover and perhaps the genre that they like. Next they turn it over and read the blurb, then open the book and read a few random pages. I think an attractive cover image, a well-written blurb and a carefully edited and colourful tale are the main factors a reader looks for. That is what I aspire for in each of my books.
11) Tell us something about your cover designer, editor and other contributors or service providers.
I have been fortunate to work with an excellent team for all my books. The cover designer, the copy editor, the layout artists, the sales and marketing team – each of them contributes immensely to the success of a book. Vaishali Mathur, Executive Editor, Penguin Random House India, has been a wonderful partner in my publishing journey, ensuring that my books reach my audiences without a hitch. Bookstores like Starmark, Odyssey, Crossword, etc and online portals like Amazon, Flipkart and Infibeam are vital in bridging the gap between an author and reader. Thank you all!
12) Share links about you and your works.
Find all my books, buying links, blogs and media reviews on my website: www.ushanarayanan.com. Or visit my Amazon Author Page: https://www.amazon.in/Usha-Narayanan/e/B0182L1QBA/. I love to interact with readers and answer questions. So do write to me at author@ushanarayanan.com. Follow my page www.ushanarayanan.com/writerusha for updates on my books and tweet @writerusha.
Thank you Prakaash for featuring me on your blog and giving me an opportunity to interact with your audience! And thanks to all my readers who have encouraged me to continue my odyssey!
You're welcome Ms Usha! I really enjoyed your answers.