The Alphabet Killer by Prachi Sharma – Review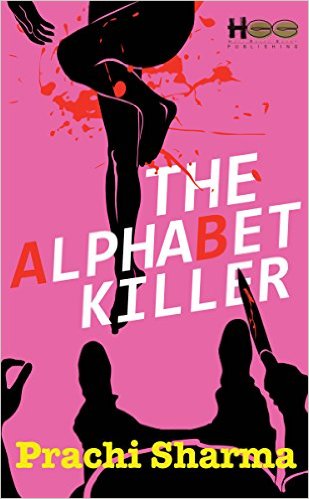 The pink cover draws your attention. Then you see the chilling silhouette of a killer with a knife standing over a girl lying in a pool of blood. Aha! Thriller. You turn to the first page of The Alphabet Killer and see that it features a roadside Romeo harassing a teenage girl. A predictable opening scene, did you think? The hero will enter bang on time to rescue the damsel in distress. Well, not exactly. The protagonist is Mia Santos, feminist author and editor-in-chief of The Feminista, who beats up the thug and three of his friends to save the girl.
Expect the unexpected. That could well be the theme of this book, written by the feisty Prachi Percy Sharma.
The reporters are doing their jobs, especially the television reporters. They badger Mia to find out her views, not on her rescue mission or about sexual harassment. They ask her instead about her cheating ex ― Dev Nagaraj, debonair publisher of her magazine, who is caught cheating with another woman! That's the reality we see; TRPs matter more than a woman's safety.
There is a series of killings of young women in Mumbai, specifically targeting women who work with our protagonist. Mia, who promotes a woman's right to live without fear, is stalked and receives anonymous calls threatening her life. Is the killer someone she knows, someone with a personal vendetta against her? Her fear is confirmed when she receives a message telling her that she must pay for her sins. Who is this stalker? She has made many enemies in her career ― exposing rapists, pimps and wife-beaters. She runs a shelter for women who are victims of cruelty and sexual abuse. That makes for a long list of people who have a grudge against her.
While she frets, the square-jawed Damien De Silva of the CID begins to play an important role in the case and in her life as he tries to pin down the killer. Sparks begin to fly between Damien and Mia but she holds back as she knows that she is not being honest with him. She starts playing a nerve racking game with the Senior Inspector and the killer, trying to keep one pace ahead of both while trying to figure out why she is caught in the crossfire… You must read the book to find out more!
Beyond the brewing suspense and romance is a subtext focusing on our society which prefers to blame the victims of sexual abuse rather than the offenders. The girl is pilloried and made to pay endlessly for her captor's crime. 'Who will marry a girl who has dishonoured herself? How will we hold our heads up in society?' is the refrain voiced by parents who are concerned more about themselves than about the girl and her trauma. The media circus, the avid interest in finding out prurient details of a rape, the tendency to blame a victim's clothes, her lifestyle, her 'boldness'― will we ever see this changing in our lifetimes?
The novel swings between Mia's and Damien's viewpoints and is written in the present tense, perhaps to convey a sense of immediacy and danger. But I personally found it distracting. There is a slight slowing down in the middle as they try to unravel the clues. However, the pace picks up again and we race to keep up as the novel speeds to a climax.
So, here's what you can expect – action and excitement interwoven with a delicious note of romance… Plus a message for discerning readers! All in all, The Alphabet Killer is suspenseful, simply narrated and skillfully plotted. A must read for thriller aficionados.
Here's where you can order your copy!